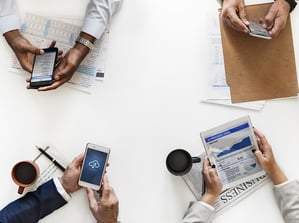 In order to grow your business in today's crowded marketplace your need to stand out. Digital marketing only works with a true commitment and adequate cash flow to make your campaigns unique and personalized. You'll also need to employ an individual, team or agency to implement your strategy. While this all sound very expensive, the fact is small business owners need digital marketing to remain relevant and thrive. Here we detail three ways to grow your business with digital marketing.
Content Marketing
According to Search Engine Land, "SMBs who hope to compete will need to take a detailed look at their budgets to see how far they can stretch their online marketing dollars, with a focus on creating content customized for their clientele."
Creating a content marketing strategy built around educating and entertaining your audience will pay long term dividends. A combination of written blogs, videos, images, graphics and social media posts is a well-rounded approach to begin or enhance your digital marketing efforts and grow your business. Humor plays really well for small businesses, especially on social media platforms. Videos and images personalize your brand and help to build a connection with your audience. Visual content has a further reach than written on social media and will expand your following and promote brand awareness.
Complimentary Strategies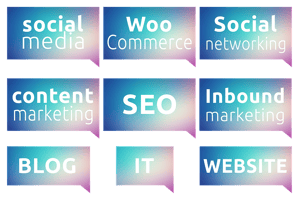 A recent Forbes article advises, "Rather than investing in two completely separate tactics, you can invest in two tactics that naturally enhance each other. For example, content marketing and SEO are two strategies that could feasibly be invested in separately; but if you invest in both of them, each will help the other see better results."
Consistently creating quality content based around keywords associated with your business will drive social media engagement and improve your search engine rankings. Two or even three different strategies used together can greatly enhance the effect of your marketing efforts. HubSpot recommends that businesses blog 12-16 times per month. Social media presents a means to distribute your content and interact with your audience. Daily posts, company participation and engaging with your followers are all necessary for an effective social media marketing campaign. Both of these strategies will impact your ability to be found online. In many cases it is best to hire an experienced team or agency to run your campaigns. Be sure to have fun with your audience and offer social media only promotions. Encourage those that visit your business to like your social media pages by offering small perks.
Increased Budget
The Houston Chronicle surmised, "If you increase advertising and promotion expenditures, you stand a good chance of capturing market share, especially if your competition is cutting back on ad spending. You let the buying customer know that you are maintaining a robust effort to remain vital in the marketplace."
Finding the right combination of strategies and the right people to implement them will require an investment and then you need to consider the cost of advertising and technology. For those already employing some digital marketing efforts, Increasing your marketing budget to include or enhance paid advertising campaigns can drive business and make your brand more recognizable. Having the right technology in place to track all of your marketing efforts allows you to make decisions based on trends, identify which employees or campaigns are effective and ultimately grow your business. Even if you hire an outside agency you'll want to become familiar with their technology and insist on detailed and timely tracking. Marketing technology ensures you keep up with where your money is being spent and the effects of those efforts on revenue.
"Implemented properly, with a good balance of strategies in the mix, your increased marketing investment will pay off in spades—and probably sooner than you think." - Forbes
Click Below For More Ways To Grow Your Small Business