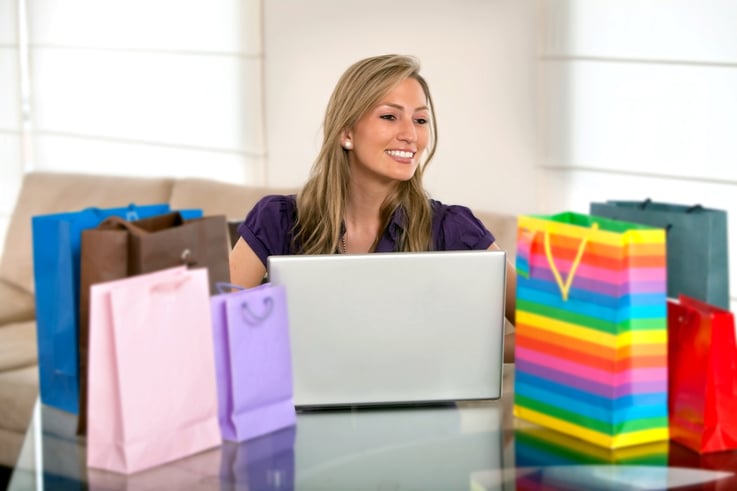 The term "hybrid consumer" might sound like a new concept, but it has been a growing market for some time now, accelerated by the pandemic. A hybrid consumer blends physical and digital shopping. For example, they may look at a product in a store but then go home, research it and buy it online. They could also buy it online and pick it up in a store.
In 2020 during the height of the pandemic, consumers did most of their shopping online, and online sales grew by 31.8 percent from 2019 to 2020. This was more than double the average annual growth rate for online shopping. When businesses started reopening in 2021 and consumers began returning to in-store shopping, they didn't abandon shopping online.
E-commerce sales are expected to hit $7.391 trillion by 2025. E-commerce accounted for about $1 in $5 of total retail sales in 2020 and 2021, and as systems improve to benefit hybrid consumers, this could continue increasing.
While the big brands like Amazon, Walmart, Home Depot, and Best Buy capitalized on this hybrid shopping trend, don't think small to medium-sized businesses are shut out of the market.
According to Forbes, hybrid shopping leverages the best aspects of on-site and online shopping to provide a fulfilling, comprehensive shopping experience that is hyper-personalized, responsive in real-time, and still human.
How To Create A Hybrid Shopping Strategy
1. Offer both on-site and online shopping options
If you own a brick-and-mortar shop and don't have an online store, you should consider creating one. For online retailers, create a pop-up store or a booth at a local market. Give your customers the ability to communicate face-to-face and share their feedback.
2. Invest in technology
A full-featured point-of-sale system will do more for you than ring up a sale. While it will improve the checkout experience, it will also collect valuable customer data that you can use for your marketing efforts.
3. Provide a unique customer experience
Research has found that 80% of shoppers are more likely to make a purchase if the shop offers a personalized experience. Personalization uses customer data based on past behavior to create unique experiences, including opt-in email campaigns and upsells, and cross-sells.
As a business owner, developing strategies that provide seamless, personalized, and convenient shopping experiences to consumers across digital and brick-and-mortar shops is essential. If you aren't creating these types of experiences, hybrid shoppers will find a business that is.
Would you like to incorporate these new technologies into your business but don't have the cash on hand? Since 2005, Quikstone Capital Solutions has helped thousands of merchants just like you grow their businesses with easy, fast, and flexible working capital.
If you accept credit cards, you could qualify for up to $250,000. Use our ROI calculator to see how much you can make with a merchant cash advance from Quikstone. With all the benefits you will gain by adding these new technologies, why wait any longer? Contact us today to get started.