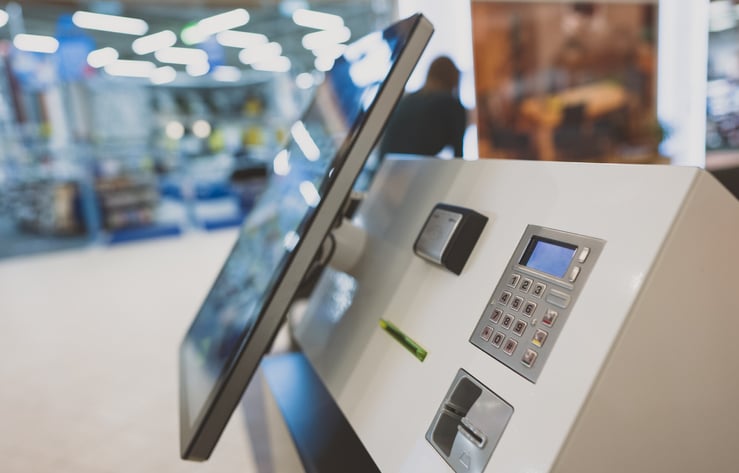 Self-service technology continues to grow so fast that Vending Times created an annual conference, the Self-Service Innovation Summit, to examine advances in technology enabling businesses to provide products and services when, where and how consumers expect them.
Benefits Of Kiosks
Kiosks Make Money. The revenue from self-service kiosks is projected to hit $14 billion in 2022, up from $10 billion in 2017.
Kiosks Boost Efficiency. When diners can enter their orders and send them directly to the kitchen, accuracy, and speed of service are increased, improving the customer experience and satisfaction.
Kiosks provide a faster checkout. Kiosks allow customers to purchase goods and services without waiting in long lines. Often in grocery stores, some guests have only a few items, and offering self-checkout kiosks allows them to quickly buy their goods and leave in a reasonable amount of time.
Kiosks Optimize Operations. Kiosks help businesses to operate with fewer costs, which results in lower overhead. Simply installing a single self-checkout kiosk can reduce the cost of maintaining your company while allowing staff more time to address customer needs, making the process more efficient and resulting in a better customer experience.
Kiosks Increase Return on Investment. A study from Forbes found that 65% of customers said they would be more willing to visit a restaurant if a self-service ordering kiosk was available. On average, diners spend up to 20% more per ticket when using a self-service kiosk in a restaurant, with some restaurants reporting increased spending as high as 30%.
There Are Three Types Of Kiosks
An interactive kiosk has an intuitive interface that provides helpful information and enables users to conduct certain transactions. You can use interactive kiosks to help with current staff shortages. The core feature of these kiosks is self-service, meaning that users get the necessary information, product, or service they need whenever they want.
Wayfinding or Informational Kiosks help customers find their way through your space by including directories, maps, and directional displays. You can find wayfinding kiosks in shopping centers, big box stores, museums and exhibitions, healthcare, and government organizations.
You can find Self-Service or Self Ordering Kiosks in restaurants, hotels, groceries, and convenience stores. Customers can use this type of kiosk to shop without having to wait for the assistance of a store associate. A self-service kiosk can increase the number of transactions processed, making more profit for your business.
Ray Marciano, managing director of Accenture's retail industry group, said that self-service kiosks are more popular than ever before.
"Before the COVID-19 pandemic, self-ordering technology was gaining traction; however, the pandemic acted as an accelerant as retailers and restaurant owners dealt with hiring challenges, wage gaps, and labor shortages," said Marciano. "Many business owners looked for alternative solutions, and many landed on self-ordering technology."
Sam Zietz, Grubbrr's CEO, believes self-ordering kiosks will also revolutionize the restaurant industry. He says that in addition to increasing revenue, decreasing operating costs, and enhancing the customer experience, self-service kiosks also provide reliability.
Would you like to add a kiosk to your retail space or restaurant but don't have the cash to invest? Quikstone Capital Solutions can help.
Since 2005, Quikstone has provided easy, fast, and flexible working capital to businesses just like yours. Quikstone funding is not a loan; it's a purchase of a small portion of your future credit card sales. There's a simple one-page application, and no collateral is needed. If you process credit cards, you could qualify for $250,000.
Quikstone has an A+ rating with the Better Business Bureau, and 80% of our merchants are repeat customers. Use our ROI calculator to determine how a cash advance from Quikstone can help your business grow. Contact us today to get started. There's no cost or obligation.