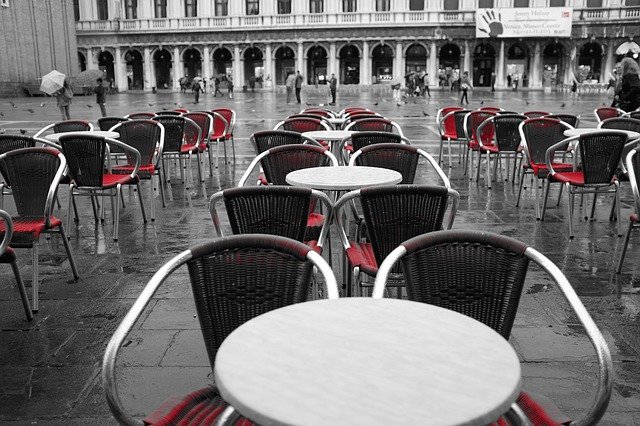 Outdoor patios have become the restaurant owner's best friend over the last year as it has offered the only option for many to remain open for table service. Even when we're not in the middle of a pandemic, outdoor seating can be quite profitable. It increases your number of seats and provides an excellent environment for live entertainment. Here we take a look at five essential elements for a profitable restaurant patio.
Quality Outdoor Furniture
There are several factors to consider when choosing your patio furniture. The first is price, as this will determine what your options are. You'll want to figure out how much space you have and what it will take to maximize it. Portability is also an important feature as many restaurants bring in their outdoor furniture when they close. The materials will also be important as you'll want something that will last, is easy to clean, and meets safety standards. Last but not least, you want your furniture to fit the style and theme of your restaurant so that everything ties in with your indoor dining room.
Fully Functional Bar
If you have the space on your patio, a full bar can be a great way to drive revenue. Even if you can't fit a full-sized bar, you can set up an outdoor bar station that can be used to serve beer, wine, and mixed drinks. Some other considerations are you'll need bartenders, televisions, bar top games, and comfortable bar stools to ensure people can enjoy their time. Refrigerators, kegerators, blenders, ice machines, and a plumbing system will need to be purchased and set up to ensure you can provide your guests with a good experience.
Climate Control Equipment
Weather plays a significant role in the success of your patio, and controlling the elements as best you can will improve your chances of turning a profit. Fans, heaters, awnings, umbrellas, and even outdoor air conditioners can greatly enhance the comfort level of your guests. The equipment you need will vary by season, so you'll want a plan for where and how to store what you're not using during a particular time of year.
Variety Of Entertainment
Outdoor patios offer a great environment to host live music, but there should be many more options for your guests to choose from. You should have plenty of televisions, an online jukebox, bar top games, arcade games, pool tables, foosball, and anything else that will fit your theme and the interests of your clientele. If the primary focus of your outdoor area is to turn over tables, then this may not be the strategy you want to go for. But, if you're looking for bar patrons to stick around and spend on drinks, you'd better have enough to keep them entertained.
Adequate Staffing
An outdoor patio greatly increases the floor space in your restaurant, and if you include a bar, you'll need a good number of additional employees to keep things running smoothly. Outdoor areas can be a bit hectic as people are walking around and changing seats regularly. You'll want to have experienced servers and bartenders to handle your patio customers, and you may want to assign a manager to handle that area exclusively. Patios can bring in a great deal of revenue if they are managed correctly.