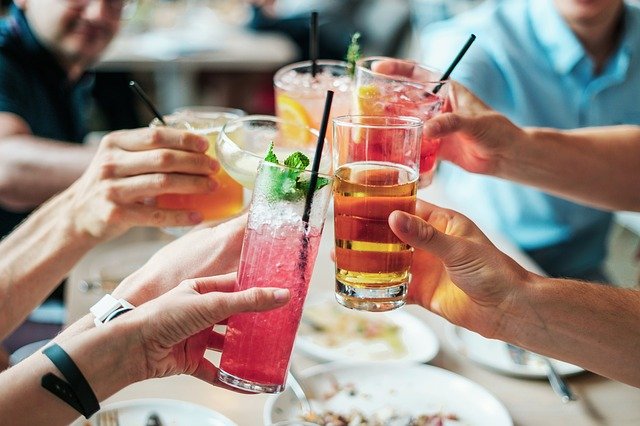 Summer is the perfect time to revamp your drink menu to add some unique, refreshing flavors. Beverages are big money makers for restaurants in the hotter months, so creating a few new cocktails is always a good idea. You may also want to consider making non-alcoholic versions of a few of these recipes as mocktails continue to become more popular.
Ingredients:
1 Lime cut into wedges
12 Mint, leaves
2 to 3 cups Watermelon, cut into chunks
1 cup Ice
2 oz Rum
Fresca soda (can substitute tonic, club soda, Sprite, 7-up)
*garnish – watermelon, lime, mint for garnish
Directions:
To a shaker add watermelon, mint, ice, and limes wedges and muddle crushing the ice and lime to release flavors.
Add rum and shake.
Fill glasses with ice and pour half full with watermelon mixture. Finish filling glass with Fresca and stir to combine.
Garnish with watermelon wedge, mint stem and or lime wedge
Ingredients:
4 medium strawberries, sliced
1 1/2 ounces vodka
3 ounces lemonade
Sliced strawberry, for garnish
Directions:
Muddle the strawberries in the bottom of a tumbler or old-fashioned glass.
Add ice, followed by the vodka.
Top with the lemonade.
Garnish with strawberry slices laid out in a fan. Serve and enjoy.
Ingredients:
Salt, to serve
1 lime, halved
2 cups (500ml) Ashton Valley Fresh Sparkling Apple Juice
1 cup (250ml) tequila
2 tsp finely grated lime rind
2 tbsp lime juice
4 cups ice cubes
4 slices green apple
Lime zest, to serve
Directions:
Place salt on a plate. Run the cut side of the lime around the rims of serving glasses. Dip in the salt to coat.
Place sparkling apple juice, tequila, if using, lime rind, lime juice and ice in a blender and blend until smooth. Pour evenly among the glasses.
Decorate with apple slices and lime zest.
Ingredients:
1 seedless cucumber, thinly sliced
2 limes, thinly sliced
2 cups watermelon balls (or chunks)
24 fresh mint leaves
¼ cup lime juice
1 cup fresh watermelon juice
¼ cup honey
1 750 milliliter bottle Sauvignon blanc or other semi-dry white wine, chilled
1 1 liter bottle carbonated water, chilled
Fresh mint sprigs and/or leaves (optional)
Directions:
In a large pitcher combine cucumber, lime slices, watermelon balls, and the 24 mint leaves. In a small bowl stir together lime juice, watermelon juice, and honey until combined; pour over cucumber mixture. Add wine, stirring gently. Cover and chill for at least 2 hours.
To serve, stir in carbonated water. Ladle or pour into glasses. If desired, garnish with additional mint.
Ingredients:
4–6 SERVINGS
¾ cup passion fruit juice, chilled
¼ cup Aperol
¼ cup fresh lime juice
4 teaspoons sugar
1 750ml bottle sparkling rosé, chilled
Ruby red grapefruit wedges (for serving)
Directions:
Whisk passion fruit juice, Aperol, lime juice, and sugar in a large pitcher until sugar is dissolved. Stir in rosé.
Serve spritz in large ice-filled wine glasses. Garnish with a grapefruit wedge.
Click below to learn a few great ways to invest in your restaurant business today!