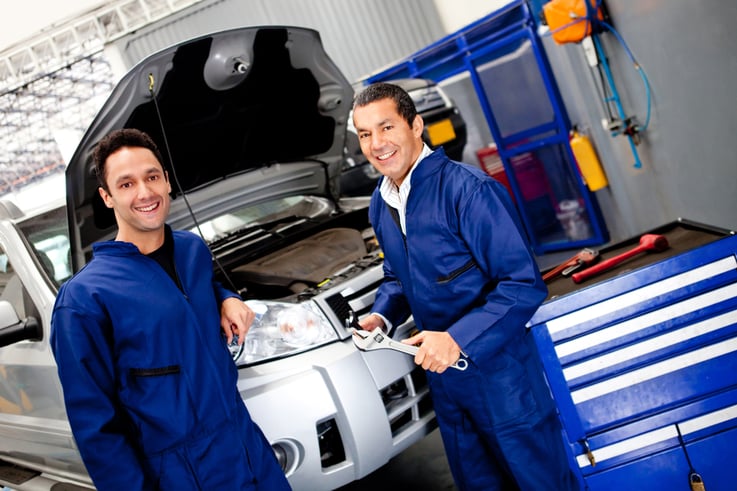 Competing against large chains can be a challenge for those in the auto repair industry. Taking steps to grow continuously is the only way to remain competitive. Finding ways to increase revenue at your auto repair shop can be difficult when you consider most owners play a hands-on role in their business. Finding additional areas of need for your current customers and ways to draw in new ones requires keeping an eye on trends and the competition. Here we look at five services that can help increase your auto repair business revenue.
Mobile Auto Repair
"Mobile" has become the watchword for modern consumer society. Shoppers consult their smartphones to find the stores, products, and services they want. But the reverse also holds true. GPS technology makes it easier than ever for businesses to bring their products and services directly to the consumer. It's hard to imagine a more relevant situation than a driver whose car has died in front of their home, at their workplace, or in the middle of the road. They need your help, and they need it now, but they can't get to you. Dash to the rescue in a mobile mechanic van, and that customer will remember it and turn to you the next time something needs fixing.
Collision Repair Services
Primary collision services include dent repair, paint scratch repair, tire installation, wheel rim repair, and glass replacement. Auto shops that assist customers with insurance claims and help with rental car arrangements gain an advantage over regular auto-service providers. Shops offering collision services need to have the necessary expertise in collision repair, damage analysis, refinishing, and structural repair. A good collision repair team is proficient in welding, custom painting, refinishing, structural and non-structural repair, and damage estimating.
Carwash
A car wash can be a great way to attract new customers and keep current customers happy. Offering a complimentary wash after a substantial repair can soften the blow of a hefty bill. If you cannot staff a car wash with your own employees, several independent contractors are looking for a quality location to set up shop. A car wash can increase the visibility of your business and allow consumers that do not need a repair to get to know your establishment. This can be a paid service that brings in additional revenue and an excellent opportunity for giveaways and coupons.
Detailing
Detailing the interior of a car can be an expensive luxury. Customers who need a good detailing service will pay up for a quality product. Getting your car detailed as you wait on a repair can be a great time saver. This service's added revenue can help fund advertising and other aspects of your business that influence your bottom line. You will want to ensure you use high-quality products and hire an experience detailer as not to cause damage to your customer's vehicle. Offering detailing services will have your customers leaving with their car running and looking like new.
Social Media Promotions
Social media promotions have become an essential tool for small business owners in every industry. Most successful auto shop promotions start with a discount on a service considered to be regular maintenance. This is a great way to get a customer in the door and wow them with your service at a discounted rate. Customer loyalty is important in all businesses, but auto repair shops can't survive without it. These promotions allow you to delight your current customers and bring in new ones for a great first impression. Including a disclaimer that they mention your ad will help you track your success but can be a turnoff to some customers. Instead, you can use electronic coupons or provide a section on their paperwork to write in a discount code. Analyzing your efforts to see what works best will make your marketing campaigns more efficient and effective.
Download our guide for more investment tips!