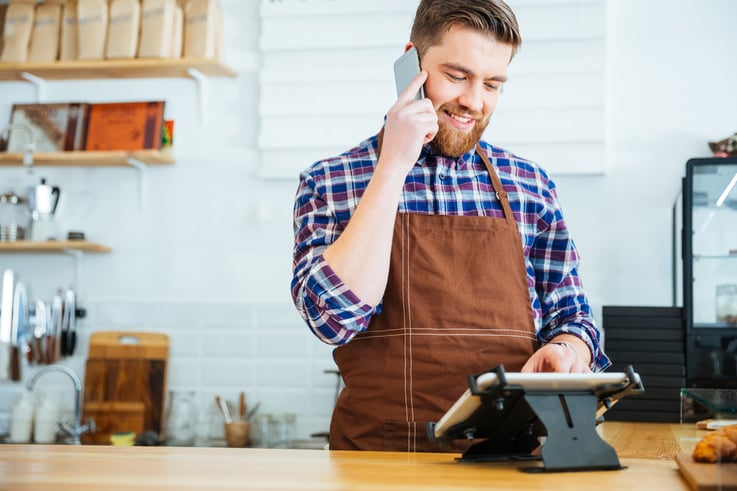 Now more than ever, delivery services can significantly increase restaurant revenue. Families have been at home cooking their own meals for several months, while many are still reluctant to choose dine-in options, to-go and delivery food items are very popular right now. Many people are also returning to work now and are busier than before trying to catch up, so they are heavily leaning on other dining options. Because of this, delivery is a huge component for choosing a restaurant, so it is important that you give just as much attention to this aspect of your business as you do your in house patrons.
Online Partnerships
There are many online services such as Grubhub and Waitr that are essentially online food courts. These services allow customers to browse several local restaurants and place their orders online. If you're not partnered with these sites, it's possible your competition will pass you by. Customers enjoy the ability to choose from a great variety of options, you need to make sure your establishment is one of those choices. Each of these services offer different things, in some cases they will handle the orders, but you'll still be responsible for the delivery.
Ensure Quality
Providing quality food to your delivery customers is easier than ever, ordering special containers that keep food warm, travel well, and are environmentally friendly are options available to restaurants to order in mass quantities. Menu items that are not well suited for transportation should be removed from your delivery menu- think what may or may not travel or keep fresh while in transit. Have a QC plan, create a checklist for staff to follow before the order leaves the building, simple things such as providing utensils, napkins and straws can greatly impact the customer experience. Nothing ruins a great meal like not having a fork to eat it with. Removing ice from drinks will ensure your customers don't receive watered down beverages. You'll want to go to great lengths to provide your delivery drivers with the proper equipment to keep warm dishes warm, and cold drinks cold.
Use Bicycle Delivery
In large cities, gridlock is a very real problem for delivery orders. Bicycles have the ability to dodge traffic and can also park anywhere. If your restaurant delivers in a large city, having a bicycle delivery team can set you apart from the competition. This helps to ensure the timeliness of delivery and the quality of the food when it gets to its destination.
Group Ordering Rates For Businesses
Partnering up with local businesses to provide daily lunches is a great way to develop consistent business. Many companies get together to order lunches, offering a discount for these group orders will endear you to these customers and ensure they look to you for their lunch delivery needs. This also increases your per delivery dollar amount, which impacts the bottom line in a positive way.
Create An App
Convenience for the customer is a main point of having delivery services. Giving them the option to order via an app will make it that much easier. Be sure that your app allows the whole ordering process to go seamlessly. If there are always errors or issues with your app then people will not want to use it. Ensure that things like delivery areas and additional fees are clearly shown before the order is started. Having an app, with the appropriate functionality and engineering, has the potential to increase delivery sales.
Branded Vehicles
Having delivery vehicles with logos for your establishment is like a rolling billboard. You can have something simple like just the logo or something bigger like decals with specials. Either way your brand information should have the address and phone number for your restaurant, also if you have a QR code that would be a good idea to have on there as well.
What If I Don't Deliver?
If your restaurant does not offer a delivery service, you may be missing out on a significant revenue source. Developing a delivery strategy and obtaining the resources to implement it can be costly. Consider a merchant cash advance from Quikstone Capital Solutions to mobilize your menu.