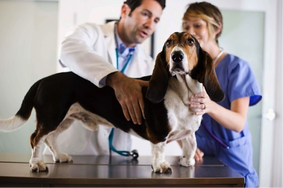 As the pet market continues to enormously grow, we're not kitten when we say owning and operating a veterinary business can be difficult at times, whether it's caring for a sweet little bulldog or balancing the books every single month.
In the United States today, there are more than 65,000 veterinary offices and there are approximately 105,000 veterinarians. With Americans spending billions of dollars each year on their pets - cats, dogs, birds and hamsters - veterinarians have to take advantage of this market by offering more than just animal care.
From retail sales to new furniture, veterinarians should be looking at an array of business investments, upgrades and installations that can help improve pet care and generate new revenues. It's not so much that the economy may deter pet owners from providing their furry critters with healthcare, it's that the veterinary enterprises could certainly enhance their business models.
Veterinarians have one of the most important jobs in the world today: caring for a member of the family. Once you gain the trust of a pet owner then they will return time and again.
Here are seven ways to ensure you have a successful veterinary office.
Pet and Pet Owner Friendly Environment
This may seem like common sense, but there are plenty of veterinary offices that do not maintain a proper environment for both pets and pet owners. Instead of just a waiting room with chairs and a table for magazines to read, a vet office should consider upgrading the seating arrangements with benches and sanitary chairs.
Another popular concept being introduced in vet offices is a fenced-in outdoor area, which can provide respite for dogs that don't want to continue waiting in an office area. Also, it allows them to have some fun if they have to stay the night or a couple of days.
Additionally, it is recommended that vet offices should expand or remodel dog wards so they aren't thin and narrow. For cats, kitty condos should be 9.5 square feet and their area should be soundproof so they won't be frightened of barking, locks and cage doors, and other common sounds associated with a veterinary practice - we all know cats are constantly scared by the smallest of noises.
Kind and Knowledgeable Staff
In addition to friendly and kind staff members, employees should also be knowledgeable about office practices, services and animals. This is part of the customer service experience that clients appreciate because the team is astute on the very basics of pet care. When staff members demonstrate a love for animals and conversant on their problems, pet owners will be relieved.
Modern Technology
Rather than relying on paper records and a computer that still has Microsoft 2000, vet offices should look into upgrading their technology. By purchasing new computers, the office can better organize and manage pet records, accounting and billing. This reduces administrative costs and improves the amount of time customers are served.
Furthermore, veterinarians and assistants can utilize brand new instruments, machines and tools to make the entire healthcare session as quick and painless as possible. A vet office should be treated like a medical clinic with the latest advancements in healthcare technology.
Retail Sales
If there is plenty of space inside the office or there's a spacious corner in the waiting room, why not institute a retail section? This can consist of jackets, booties, toys, leashes, food and other items that can attract pet owners while also showcasing the veterinarian's office. Maintaining a retail section can provide that extra bit of cash flow.
Nutrition Advice
Pet owners are very cautious about what they feed their animals. Similar to the trend among human consumers today, pet lovers want to feed their dogs and cats organic and all-natural food, both wet and dry. Veterinarians can offer important information and advice on what types of brands pets should be consuming.
Workshops
One effective way to communicate with the community of pet owners is to offer group sessions. These types of workshops can include tips on how to care for a pet, how to ensure it is healthy, how to properly care for them and how to understand what they're trying to communicate. Neighborhood pet owners will be intrigued by this kind of seminar and it could garner new clients.
Marketing and Promotions
Finally, providing promotions on a regular basis can compel pet owners to patronize your practice. Offering discounted boarding services, free wellness checkups and inexpensive spaying and neutering services are superb methods to bring customers to your vet office.
Of course, it is imperative to inform your market of these upgrades, offers and services. Social media is one of the best ways to announce these modifications and installations. Announcing promotions on Twitter, sharing important pet information on Facebook and posting photos of your canine friends on Instagram are reliable forms of content marketing.
It may be expensive at first to institute some of these business measures, but they are well worth it in the long run.
A merchant cash advance is one of the simplest ways for veterinarians to update their interior décor or purchase new instruments. When business financing is tight, a merchant cash advance is an alternative to conventional small business loans. This can help pay for the short-term costs, while vets focus on their business.
Before you know it, you'll be raising the woof as your bottom line will be incredibly enhanced.