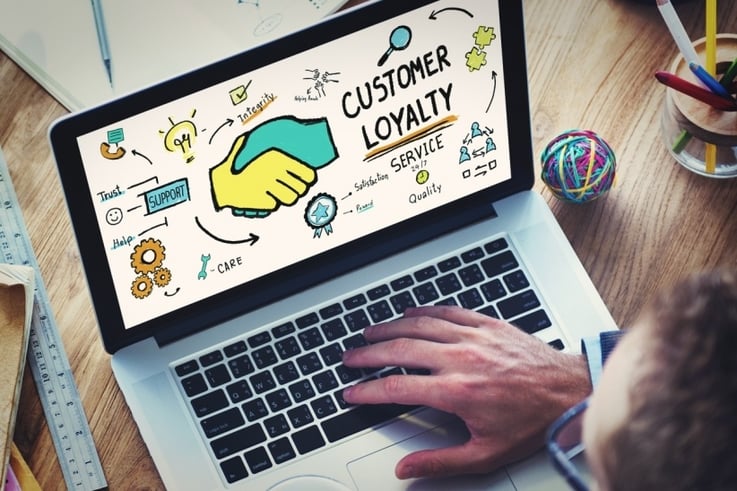 Customer loyalty is an ongoing positive relationship between your customer and your business. It drives repeat purchases and prompts existing customers to choose your company over a competitor offering a similar product or service.
When customers are loyal, they return for future purchases and recommend other customers to your business, basically providing you with free word-of-mouth marketing.
In the 2020 Trust Outlook published by the Trust Edge Leadership Institute, the number one reason people will not buy from a salesperson is lack of trust. In the U.S., nearly 8 in 10 people would not refer the products or services of someone they do not trust. Trust is how organizations win our loyalty.
Why Is Loyalty Important
Customer loyalty is essential for many reasons, but the most important may be its effect on your bottom line. Research shows it's 5x more expensive to acquire new customers than to retain your current customer base.
Why would you spend extra money to make a sale if you didn't have to?
But there are many other reasons too. Customer loyalty means your customers will keep coming back to you. It's not only about repeat business – loyal customers typically spend more, and they tell their friends. The Trust Outlook's survey of 1,000 customers and 500 business leaders revealed that consumers, on average, spend 25% more on brands they trust – with 1 in 5 spending as much as 50% more.
How To Build Customer Loyalty And Trust
Provide first-rate customer service – Your staff needs to be knowledgeable, accessible, efficient, and friendly. They should be able to answer questions and resolve issues quickly. The goal is always to exceed expectations.

Reward your customers for their loyalty

– Do you have a program that rewards your loyal customers with discounts, exclusive offers, and freebies? 71% of consumers who are members of a loyalty or rewards program say membership is a meaningful part of their relationship with a business. Your customers can choose to spend their money anywhere, and they've chosen your company. Make them feel appreciated through a loyalty program.
Ask for and act on your customer's feedback – If you have happy customers, you need to spread the word. Ask for reviews and testimonials. Post them on your website and work them into your social posts. There is no better marketing than honest reviews of your business by real people. And if there are negative comments, take them to heart, learn more, and make sure you reach out and let your customer know you will make things right.
Engage your customers consistently – The keyword is consistent. Remember the saying, "Out of sight, out of mind." It's important to remain visible to your customers but be sure to strike a balance. If you only connect with them when you want them to buy something, you risk turning them off. Provide helpful, relevant information and not just a sales pitch.
Be honest and transparent – Be sure your sales team is upfront about pricing and truthful about how your products and services will help your customers.
Since 2005, Quikstone Capital Solutions has helped thousands of merchants with easy, fast, and flexible working capital for all their business needs. Quikstone is recognized as a leader in the financial services industry. With an A+ rating from the Better Business Bureau, 80% of our merchants are repeat customers, and we are proud of the trust they place in us.
If you need funding to help your business grow with new equipment, additional staff, expansion or remodeling, or a marketing campaign, Quikstone can help. Our funding is not a loan, there's a simple one-page application, and no collateral is needed. If you process credit cards, you could qualify for up to $250,000 with cash available in just 2-5 business days. Contact us to get started today!