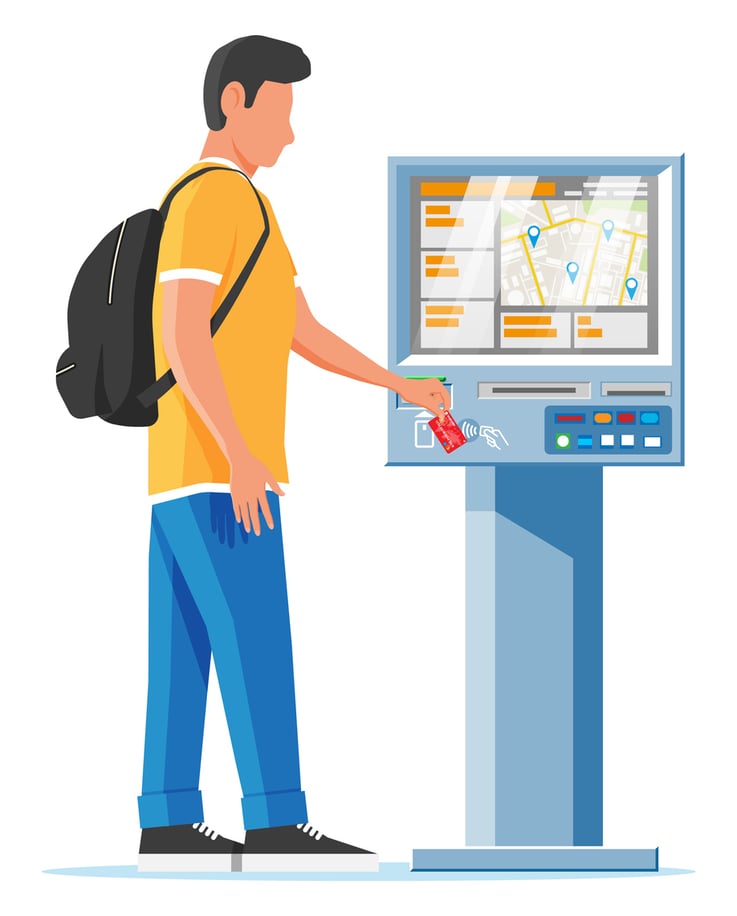 For more than a year, small businesses have struggled to fill open positions. According to a new survey from the Alignable Research Center, roughly 45% of small businesses are putting hiring on hold due to higher salaries, inflation, and the fear of recession.
There is help for these businesses, and it's coming in the form of new technology. By taking on the work of several people, self-ordering kiosks can cut labor costs and allow existing staff to focus on more meaningful duties. Whether free-standing, wall-mounted, or table-top, self-ordering kiosks are helping businesses, especially restaurants, battle today's high costs and record inflation.
Kiosks Cut Costs
In addition to driving down labor costs, kiosks help small businesses make money. Automating two essential front-of-house tasks (ordering and payment) reduces the number of staff needed per shift. With a one-time investment in a kiosk, all ongoing labor costs like salaries, paid leave, perks, and incentives are eliminated. Kiosks are also much faster than humans, facilitating higher volumes, and this speed is a real benefit during peak times when there are long lines of customers.
Kiosks Equal High ROI
Because of the increase in ticket sales that using kiosks yields, restaurants can make a quick return on their investment. Kiosk orders, on average, are 10-30% higher than orders placed with a cashier. The revenue from self-service kiosks will hit $14 billion in 2022, up from $10 billion in 2017. Attractive displays, automated cross-sell and upsell options, and faster checkout all contribute to higher spending.
Restaurants typically expect increased revenues of $20,000 to $40,000 within several months of use. Thanks to this increase in sales, the system pays for itself in a short time, with the profits going straight to the bottom line.
Kiosks Provide A Wealth Of Data
Foodservice kiosks help restaurants learn valuable information about their customers and their spending habits. Merchants can use this data to target promotions, increase sales, deepen customer satisfaction, maximize discounts and plan more efficiently.
By identifying customer demand and preferences, business owners can offer items that are guaranteed to sell. Purchase patterns based on time of day, week, month, or season, can reveal peaks and drops in demand, allowing for proper inventory planning. Businesses can then manage their spending and reduce costs by buying more effectively.
Finding The Right Kiosk For You
Business owners should research kiosk vendors and find a reliable company with a proven track record. Testimonials, reviews, and references are good indicators. Technical support beyond the initial set-up is another crucial feature for a kiosk vendor. A company that provides dedicated support 24/7 is a perfect choice.
For a small business, the best response to today's economy is to take steps to reduce costs. Adding kiosks to your business can be one of the most effective weapons to cut expenses, combat inflation, and increase revenue.
Since 2005, Quikstone has provided easy, fast, and flexible working capital to businesses like yours. Quikstone funding is not a loan; it's a purchase of a small portion of your future credit card sales. There's a simple one-page application, and no collateral is needed. If you process credit cards, you could qualify for $250,000.
Quikstone has an A+ rating with the Better Business Bureau, and 80% of our merchants are repeat customers. Use our ROI calculator to determine how a cash advance from Quikstone for a self-service kiosk can help your business grow. Contact us today to get started. There's no cost or obligation.