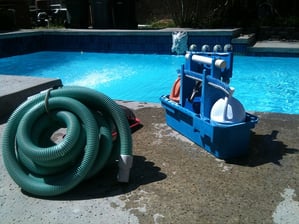 As warmer weather begins to creep in many people start to dust off their pool and spa equipment to get it ready for the summer months. As a small business owner it's important to maximize your revenue during peak seasons. Pool service is a unique industry and it takes a refined business strategy to succeed. Here we've outlined some keys to generating more revenue for your pool and spa service.
Digital Marketing
With the evolution of the internet, it is important for any small business to employ an aggressive online marketing strategy to grow your business. This is an aspect of marketing that has been largely ignored by the pool industry except in a few small cases. The reach that a business can have online can far exceed the reach of traditional billboards and print advertisements. Having a strong online presence can get your company noticed by a much larger cross section of consumers than those companies that only incorporate traditional marketing methods.
Prospects to Target
Determining the prospects you should go after is the first step in increasing your customer base. Your first target should be existing pool owners who don't currently have a weekly pool service. Your next major target should be current pool owners who have a weekly service, but may be looking for a new one. And lastly, new pool owners that have not yet contracted with a pool service. All of these demographics represent great opportunities for increased business.
Social Media Presence
Social media has become increasingly important in advertising and promoting your business. Having a strong presence across all social networks and consistently posting industry related articles and promotions are essential in obtaining and maintaining customers.
Focus on Deliverables
Knowing what your employees are doing while out in the field can be a difficult and time consuming task. Focusing on what is being delivered and sold to your customers is the best way to track how employees are spending their time.
Up-sell Customers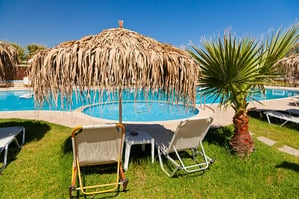 Your existing customers represent a huge opportunity for additional revenue. Ensure your employees are communicating all of the services that your company offers whenever they have the chance. Send out newsletters and create email campaigns that target this group and highlight everything your company has to offer.
Expand Cleaning Services
Pool cleaning equipment can be expensive. Expanding your cleaning services to include hot tubs, Jacuzzis and other difficult to clean outdoor spaces is a great way to maximize your return on investment.
Accept Credit Cards
This may go without saying, but there are still a lot of smaller companies that don't accept card payments. Having this ability will not only increase your customer base, it will make things more convenient for your current customers. This also can allow workers to gather payments as soon as a service is ordered or completed, cutting down on days sales outstanding.
Ask For Referrals
If you have loyal customers that have been with you for a long time and you have developed a relationship with, it's a great idea to ask them to refer your company to friends. Customers that believe in your business make great salespeople.
Post Cards
Sending postcards to your current customers along with targeting new lists is great marketing. Your post cards could have promotions or specials listed that would draw a customer's attention to the ad. Your post cards could also have reminders about recommended recurring maintenance as well.
Bookkeeping
In order to make money in any business you need to make sure you are sending out invoices so you can collect payment. A good alternative to mailing invoices could be emailing them instead. Doing this also saves you cost in paper and postage. Make sure your due dates of the bill are clear and are what was discussed with the client. Using bookkeeping software is always a good idea to stay on track.
Get Testimonials
On your website it would be great to have customer testimonials as a way to show your worth to potential clients. If you have happy customers talking about their great experience with your service, you would have a better chance of getting new clients that appreciate others opinions.
In many cases small business owners lack the credit or collateral to access the money needed to remain flexible. Quikstone Capital Solutions provides cash for businesses. A merchant cash advance from Quikstone Capital Solutions is a business loan alternative that can help your business thrive and prosper, whether you need cash to buy equipment, cash to renovate or expand, cash to purchase inventory, cash to advertise or cash for emergencies. Quikstone Capital Solutions can help. Contact us for a consultation today or simply click below.