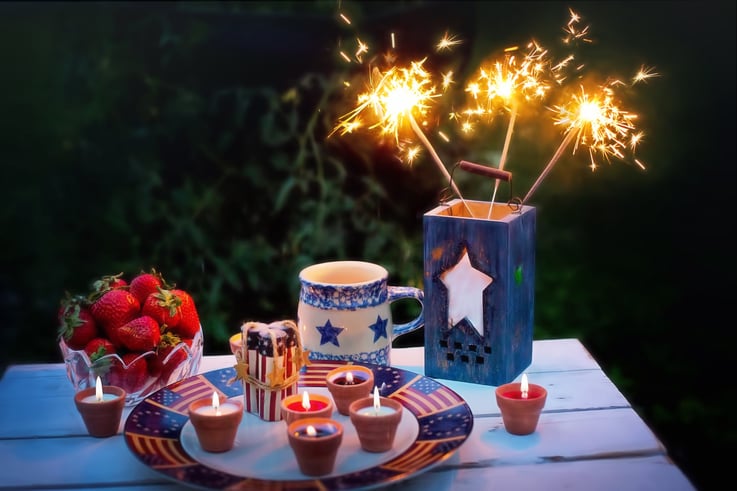 While it still may be a bit scaled back, this year's Fourth of July celebration should be a bit more festive than in 2020. With many restaurants back to operating at one hundred percent capacity, putting together an event to commemorate our nation's independence is a great way to kick off the summer. Here are some ideas about how to celebrate the Fourth of July at your restaurant.
Book Live Entertainment
Live music and other entertainment can be a great draw for restaurant guests and keep patrons in your store spending money on food and drinks for the length of the performance and beyond. Hiring a local band and promoting it as a part of your Independence Day celebration can help create a festive atmosphere and make your restaurant the place to be to celebrate America.
Run Games And Contests
Finding fun ways to keep your customers engaged and put some free stuff in their hands is a great way to satisfy customers and create loyalty. You want your guest to have a fun and memorable experience that will keep them returning for years to come. Some ideas include raffling off big-ticket items, costume contests, carnival games, and even volleyball if you have the space outdoors.
Utilize Your Outdoor Space
The Fourth of July is known for cookouts, so if you've got available outdoor space, you should take full advantage. You could set up a stage for live music, a sandpit for volleyball, or simply have a traditional outdoor barbecue. The warm weather is typically conducive to outdoor activities, but make sure you have fans to keep people cool. If you're lucky enough to be in a location where you can see fireworks, be sure to advertise that fact heavily.
Give Out Branded Merchandise
Branded merchandise such as pint glasses, t-shirts, bottle openers, pens, and other small items can make great giveaways for your celebration. They also provide continued advertising for as long as the item is useful to its recipient. These items could be used as an immediate giveaway at the front door, raffle/contest prizes, or for purchasing certain menu items. Make sure your merchandise is quality, and your name and logo are displayed prominently.
Promote Through Social Media
Social media is going to be your best platform for advertising your Fourth of July celebration. Create online flyers that promote all of the different specials and entertainment you'll be offering during your festivities and distribute them throughout your network. If you have pictures or videos from previous year's celebrations, they can make great marketing materials. Let your potential guests know just how good of a time they will have by attending.
Click below for more great ideas on investing in your restaurant business