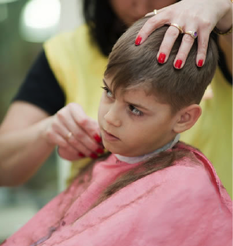 Niche markets in any industry are usually a great way to generate more revenue, but this is especially true when it comes to providing children hair services at your salon. According to Inc., the salon solely catering to children is an estimated $5 billion industry per year. The entire hair salon industry is a $45 billion per year endeavor, so this service alone can make up more than 10 percent of that revenue. Maybe it is time that you started appealing to parents and their kids.
Open Up Your Space
According to Forbes, a profitable salon has at least six or seven chairs – and the same number of stylists – in a space of around 1,000 square feet. Creating your own space can run you anywhere from $75 per square foot for the standard salon. Look to spend around $300 per square foot for the high-end salons. If you already have the extra space, then your business funding needs won't be as high. However, if you need to expand your new facility or move to a different location to add one or two children's chairs, then you will need a funding source to help.
Building For Kids
Children's salon chairs can cost anywhere from $300 for a standard chair, to $600 for a specialty chair in the shape of a car or airplane. A novelty chair can help you create the kid-friendly environment. Therefore, your business funding needs will increase for equipment and supplies. The cost to fit a couple of children's chairs into your salon is an estimated $125 per square foot.
Finding The Right Stylists
The children's stylists will need to trained and experienced in working with kids. Parents will want friendly, upbeat stylist who know how to charm their little ones. Forbes tells us that hiring stylists who work on commission can help control costs and inspire those stylists to bring in more clients. You can offer a commission-based package that pays the stylist 40 percent of the first $1,000 in revenue they generate for the week, and then an extra five percent of all revenue generated beyond that initial $1,000. It makes compensating your new stylists easier and gives incentive for those stylists to become proactive in marketing your new children's services.
Keep Your Salon Organized
Forbes offers a strong suggestion on how to keep your growing salon organized. Windows-based salon management programs can cost as little as $80 per month in subscription rates, but they offer all of the services that will help keep your new children's schedule and operate the rest of your salon at the same time.
When you own a salon, it may be worth it to consider niche areas to help increase salon revenue. The business funding you would need to add a couple of children's chairs to your salon and hiring staff experienced with child's cuts, would give you the chance to take advantage of a multi-billion dollar niche in your industry.