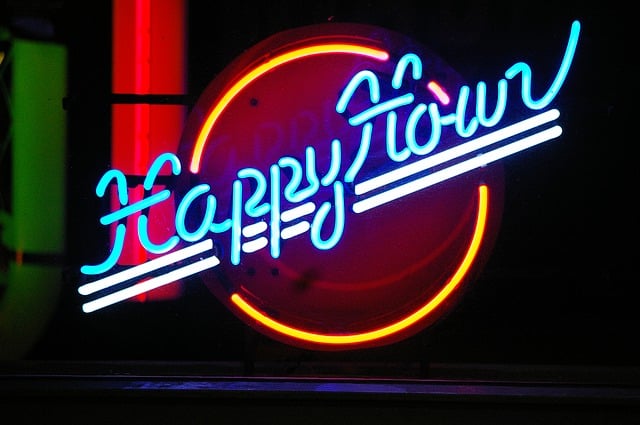 Happy hour can be a financial boon for those with a bar in their restaurant. Proper organization and promotion will largely determine the success of your happy hour. Menu items, days, times, and themes are all important ingredients as well. Here we breakdown how to maximize happy hour at your restaurant bar.
Offer Top Shelf Drinks
Happy hour is generally reserved for draught beer and well drinks. Offering one or two premium drinks during each happy hour will incentivize more people to visit and to stay put at your bar for a longer period of time. While you want to be mindful of profit margins, premium offers will help get people in the door. Take it a step further and establish a theme for each day's happy hour based on the premium drink and appetizer specials you are offering.
Make It A Happy Day
Once a month you may consider making your happy hour a happy day. This means opening up the floodgates for people to drink and eat at a discount over the course of one particular day. Choosing a day of the week when you are typically slow can be a great way to drive business when sales tend to be stagnant. Just make sure that you are sufficiently staffed, so the day goes smoothly.
Develop An Exclusive Happy Hour Menu
Instead of having a generalized happy hour, consider putting together a menu tailored specifically for your happy hour. This can include drink specials, tapas, miniature versions of your entrees and of course appetizers. This will make it easier to promote your different specials and separate you from your competition in most cases.
Incorporate Live Interactive Entertainment
Live entertainment can be a great draw for your restaurant bar. Trivia games and live music can be used to cross-promote your happy hour. If you've booked a musician, starting happy hour at the beginning of their set will allow people to get warmed up and settle in for the entire show. The idea behind happy hour is to keep patrons in your bar beyond the designated discounted time frame. Live entertainment is a great way to do so.
Promote Heavily
Your happy hour has little chance of being successful without adequate promotion. Social media pages are a great way to spread the word. Post your menu along with the days and times of your happy hour and offer some kind of incentive for those that share your post. Word of mouth advertising as well as signage outside and inside your establishment will also help to drive participation.
Download our Investment Guide for additional ideas to grow your restaurant.