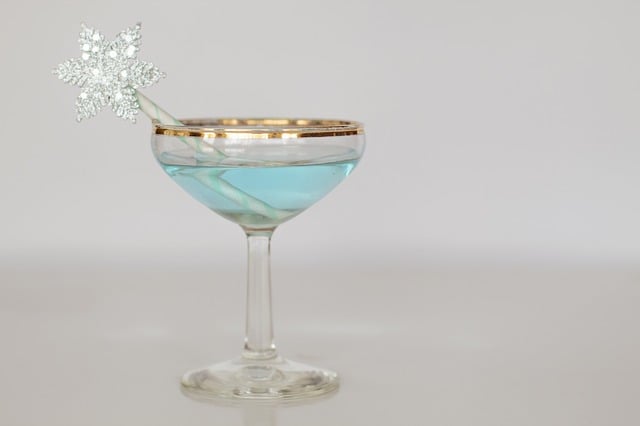 Winter is right around the corner and restaurant and bar patrons will be looking for something special to warm them up. Allowing your bartenders to be creative can help expand your drink menu, draw in customers and even improve employee morale. Here are our five favorite winter cocktail recipes for 2020 to help inspire your own creations.
Ingredients:
1.5 oz raspberry- and blackberry-infused cognac*
1 oz Crabbie's raspberry alcoholic ginger beer
1 oz champagne
3 drops Black and Blue Bitters
Directions:
Build in a cocktail flute and serve with fresh berries.
*Raspberry and Blackberry Infused Cognac
2 Cups Cognac
1 pint mixed Raspberries & Blackberries
Place fruit in a non-reactive container and top with cognac. Let sit for 1-2 weeks.
Ingredients:
Ice
1/2 small red apple, cored and very thinly sliced
3/4 c. apple cider
1 tbsp. fresh lemon juice, plus a wedge for garnish
1 oz. gin
1 oz. vodka
1 oz. light rum
1 oz. tequila
1 oz. triple sec
1 tsp. superfine sugar
Cinnamon stick, for serving
Directions:
Fill a tall glass with ice and apple slices. Combine all ingredients in a cocktail shaker and fill with ice. Shake vigorously until chill. Strain into glass and garnish with a lemon wedge and cinnamon stick.
Ingredients:
4 oz Jose Cuervo Red Sangria Margarita
1 oz sparkling water
1 lime
1 orange
1 pomegranate
1 apple
Mint leaves
Directions:
Combine the margarita mix and sparkling water. Garnish with lime, orange, pomegranate, apple, and mint.
Ingredients:
1.5 oz. Bertoux Brandy
.5 Falernum
1 oz. aphrodisiac tea concentrate (rose petals, clove, cumin, allspice)
.5 oz. lemon juice
Hot water to fill line
Garnish with cinnamon and orange twist
*The aphrodisiac tea is subject to interpretation, but the elements of clove, anise, rose petals, and Indian spices dominate. Use 1 tbsp. herbal tea blend with 4 oz. hot water to steep.
Directions:
Build in mug or vessel suitable for higher temperature ingredients. Steep tea for 2 minutes in 190°F water. Combine all ingredients into the vessel, adding hot water last. Drink carefully.
Ingredients:
1 1⁄2 cups fresh lemon juice
2 cups strong chai tea, brewed
2 cups apple cider
1 1⁄2 cups maple syrup
4 dashes orange bitters, preferably Fee Brother's West Indies
3 cups bourbon, preferably Maker's Mark
2 cups dry hard cider
4 cups sparkling water
Apple slices, for garnish
Lemon slices, for garnish
Cinnamon sticks, for garnish
Directions:
Combine lemon juice, maple syrup, chai tea, apple and hard apple ciders, bitters, and bourbon in a large punch bowl.
Immediately before serving, add a few generous scoops of ice and top with sparkling water.