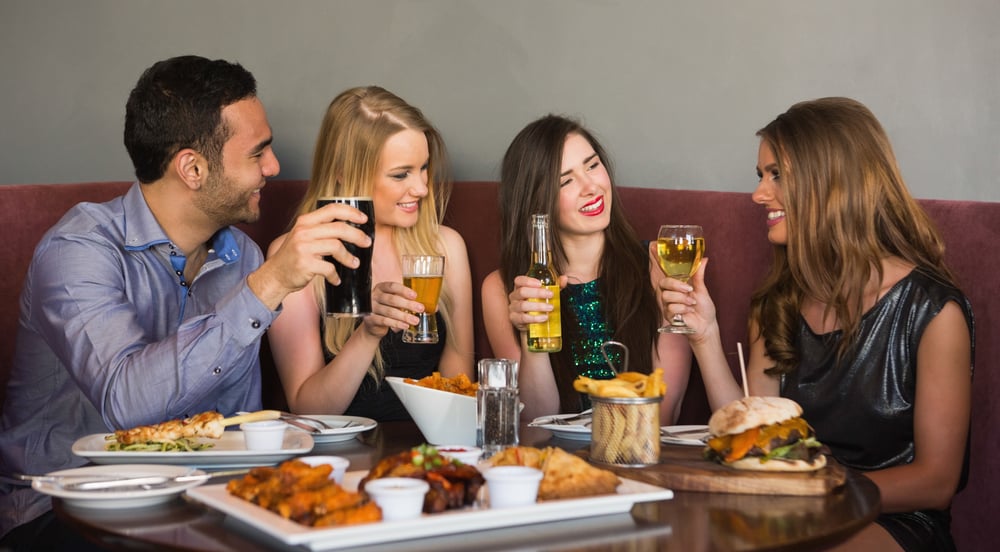 Appetizers and snacks are key for any super bowl party. Creating a special menu for your game day event can make things easier on your staff and give your customers some new flavors to try. Here are three appetizer recipes to help inspire your Super Bowl restaurant menu.
Ingredients:
6 hamburger buns cut in half, or use slider buns instead!
1 pound ground beef
½ cup onion finely chopped
1 tablespoon Worcestershire sauce
6 slices of American cheese, each cut into four pieces
1 teaspoon sesame seed
12 dill pickle chips
¼ cup thousand island dressing
Directions:
Preheat oven to 350 degrees.
Spray a 12 count regular-size muffin cup with non-stick spray.
Press half of a bun, cut side up, into each muffin cup, pressing to thin out the bun some.
In a large skillet, brown and crumble your ground beef and drain. Remove from heat. Add Worcestershire sauce, onion, and salt, and pepper to taste.
Place a quarter of each slice of cheese into each cup.
Divide the meat mixture evenly among muffin cups.
Bake 10-12 minutes until the buns are lightly toasted.
Remove from the oven and immediately top each cup with another quarter of the cheese slices.
Sprinkle each one with sesame seeds, a drizzle of the thousand island, and a pickle chip.
Ingredients:
2 8- oz blocks of cream cheese softened to room temperature
1 12.5 oz can chicken drained (I like the Costco brand best!)
1 cup cheddar cheese shredded
1 pkg. dry ranch dressing mix
Directions:
Mix all the ingredients together in a large bowl and then refrigerate until ready to serve.
Dipper ideas: Wheat Thin crackers, carrots, celery, potato chips (the dip is pretty thick, so make sure your dippers are sturdy)!
Ingredients:
2 large chicken breasts cut into 1 1/2" - 2" chunks, salted lightly
1 1/2 cups of your favorite BBQ sauce
1 lb bacon cut into 1"- 1 1/2" segments
Fresh pineapple cut into 2" chunks
Directions:
Combine chicken pieces with 1 cup of BBQ sauce and marinate for 2-3 hours. (This step can be omitted if you're pressed for time!)
Microwave bacon for 2-5 minutes, depending on the thickness of your bacon and how crispy you like it. Let bacon cool slightly.
Using wooden skewers previously soaked in water for at least 1 hour (or metal skewers!), thread chicken, bacon pieces, and pineapple in a pattern. The larger pieces of pineapple are easier to skewer. Fold thin bacon pieces over in half and arrange them next to the chicken, being careful not to put the bacon pieces too close to anything else so that they have space to heat up properly to cook.
Grill kabobs until chicken reaches 155-160 degrees F. Slather remaining 1/2 cup of BBQ sauce on kabobs when they're nearly cooked. Cover loosely with foil and let sit for 5-10 minutes before serving.
Download our restaurant investment guide for additional tips to grow your restaurant!