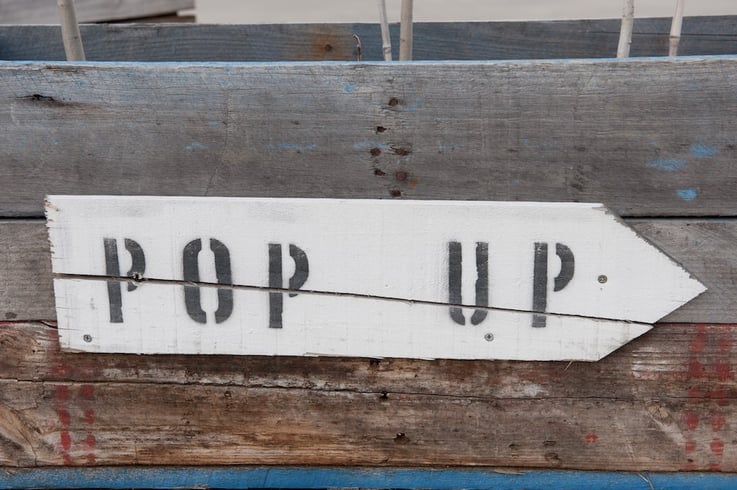 If you're a restaurant owner who wants to try out a new menu, test an unconventional marketing strategy, or explore a neighborhood for a potential new location, there's a trendy way to accomplish all of these ideas - try a pop-up.
A pop-up restaurant is temporary, and that's a big part of its appeal. A pop-up restaurant can operate out of someone's home, an empty warehouse, or unused retail space. A pop-up can be open for an exclusive one-night charity event, or it can be open for months, allowing a chef to showcase their talents or test new menus.
Pop-up restaurants got started in the 1960s as supper clubs. Recently they've had a resurgence due mainly to the foodie – people who enjoy trying new or unusual foods. Many pop-ups advertise by word of mouth or social media.
An interesting take on the concept is a fixed location with several different restaurants under one roof. An example of this is the Hall on Franklin in Tampa. At the Hall, seven diverse culinary masters come together in one location to deliver a unique dining experience. It's a collective eatery where you can choose a cocktail from one vendor, appetizer and entrée from another and cap it all with a dessert from a specialty bakery located there. This concept is springing up in locations across the country.
While pop-ups tend to be unconventional, you do need to employ some basic business principles to be successful.
You need a purpose – Will your pop-up advance your culinary reputation, raise money for a charity, or test a new concept to showcase potential investors?
You need a location – A pop-up restaurant can be set up anywhere as long as it's safe for cooking and serving food. Consider how large a kitchen and dining area you'll need.
You need insurance and licenses – Just because your restaurant is temporary, it should still be legal.
You'll need a menu – Be unique and creative, but since you'll have limited space for storage and cooking, you'll probably want a set menu.
Pop-Ups aren't all restaurants – they can be retail locations too
Don't feel left out if you are not a budding restauranteur. Many retail and service-based businesses lend themselves to a pop-up enterprise. Think about those tax service companies that appear two to three months before April 15. Or the costume shops, gourmet food shops, and the shops that pop-up with decorations for the holidays.
Today, the pop-up retail space market is so popular with landlords and tenants there are multiple sites on the web showcasing these properties. One such site, TheStorefront.com, even lets a potential tenant book a location online. For more information on pop-ups visit PopUpInsider.com.
Whether you're interested in creating a pop-up restaurant or retail pop-up, to be successful, you need to start with a business plan.
Click below to download our free business plan template and get started today!