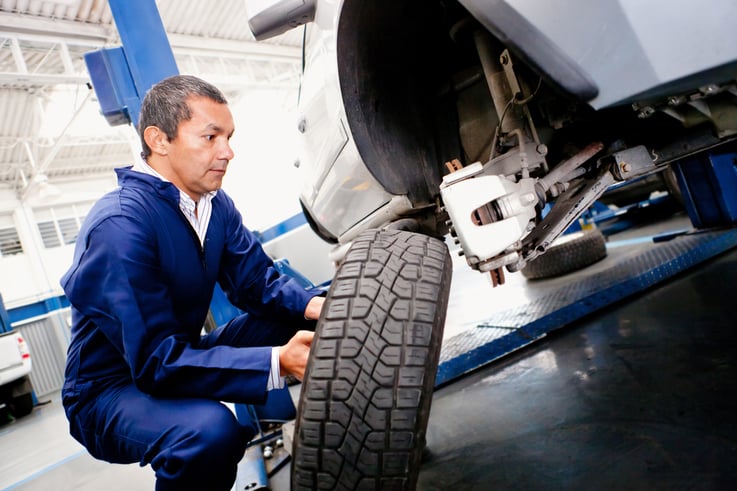 Your auto shop has a plethora of items that can be performed on vehicles on a day to day basis. But with the storm seasons approaching there are somethings you can tailor at your shop to so that everyone is prepared when it comes time. Because let's face it, if and when people are asked to either evacuate or seek higher ground, their vehicle is what is supposed to make this move, and it needs to be reliable. With that said, here are a few things to look at when offering specials to prepare your community for the storm season.
Wellness Check
This offer goes without saying that your auto shop can offer a technician to look over the vehicle and make suggestions on what needs to be done to the vehicle and create a separate package that will take care of all their needs in one visit. This can be as simple as a fluid top off to a full-on oil change and brake servicing. Some vehicles might not need anything but a look over, and it can be as simple as making sure the emergency lights work along with all lights and wiper blades. Essentially, giving the owners the comfort of knowing an expert has looked over their vehicle, and they have the means to provide a safe, reliable vehicle to transport their family in case something comes up. Sum all of these items into a package labeled wellness check, and it will be quite the special.
Records Check
Knowing the auto shop world's ins and outs, you may have a leg up on how insurance handles claims most of the time and how to make sure the people in your community stay protected. Offering an expert to sit down with automobile owners and making sure their documents are in order and explaining the coverage options they may not know about and how to make sure they are up to date will pay dividends. For example, it's a great idea to take pictures of the vehicle on both the outside and inside in case of any damages and not to mention making sure all their documents for the vehicle are in a waterproof container in the car. All of these things are usually thought about after the fact and could have made life a whole lot easier.
Necessary Supplies Kit
Putting together kits that can be placed in the trunk can make your shop a one-stop place to prepare for the storm season. Obviously, you want to make sure to be specific with your kits for things that will be needed for your area and leave some things up to the consumer, whether that is non-perishable food items and water. But items like maps, oil, tool kit, tire jack, and jumper cables, just to name a few, can be put into a package to ensure that your community drivers have all they need just in case things take a turn for the worse. Many of these items you may already have within your shop, so it should not be too much to string them together for a storm season special.
Run The Data Base
Your auto shops system may have some profiles of customers that come in regularly to receive their routine maintenance. Take the time to pull these reports and call them to offer a discount on the service they usually get. Your auto shop can incentivize these customers by offering referral discounts that can be loaded to their accounts. Now, with that, your auto shop will have to make the call of what that is, but with life being so crazy as it is, a friendly call and reminder may prompt automobile owners to move forward on the upkeep of their vehicle.