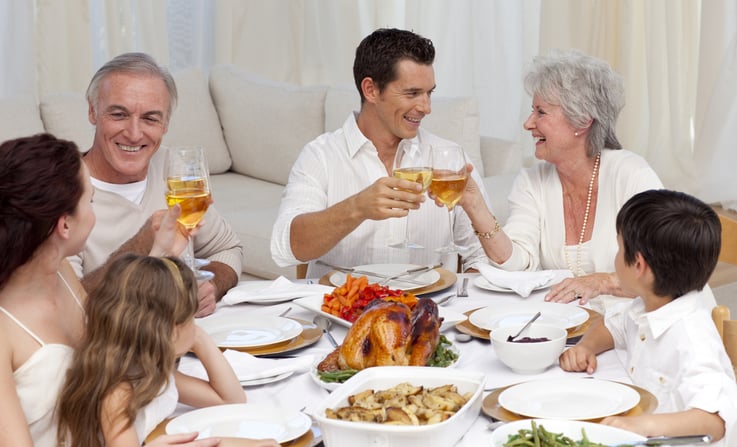 It's a question posed by many families at this time of year. Do we go out to dinner on Thanksgiving or cook at home? With higher food prices at the grocery, many families may find it easier and less expensive to visit their favorite restaurant for their Thanksgiving dinner.
Restaurants are taking advantage of supermarket inflation by tempting Americans with at-home heat-and-eat meals at prices that can be hard to turn down. A 2022 Thanksgiving survey by FinanceBuzz found that 69% of Americans would consider getting their Thanksgiving meal pre-cooked from a local restaurant.
Dallas-based Cotton Patch Cafe is offering Thanksgiving meals to-go for $95-$140; each package feeds eight to 10 diners. The packages range from $9.50 to $14 per person.
Last year, the Cotton Patch Cafe sold about 3,000 Thanksgiving meals. Orders for the 2022 ready-to-eat meal packages began coming in on November 1, the day their website opened for business.
The Cotton Patch is just one of the restaurants betting on higher sales because of high grocery prices and a demand for convenience by selling Thanksgiving meals to go. Those restaurants include Boston Market, Bob Evans, Cracker Barrel, Golden Corral, Popeyes, and Black Angus Steakhouse.
If you'd like to increase sales this holiday season by selling holiday meals to go, Quikstone Capital can help. Looking ahead to the new year, could you use Quikstone Capital to add to your inventory, make business improvements, including purchasing new equipment, or create a holiday advertising campaign?
If you accept credit cards, you could qualify for up to $250,000. There's a simple application, no hidden fees, and you could be approved and funded in less than five days. It only takes a moment to get started, so contact us today.