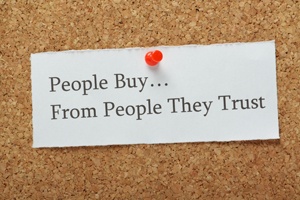 Trust in your company can make or break your business. The trust not only needs to be established with employees and their bosses, but you also need to have a trustworthy relationship with your consumer. Being a brand that the community can depend on will propel your business into unimaginable growth.
What Is Trust?
Trust is a word with many meanings. It, in essence, means that you can be relied on. Your employees rely on you to be a good leader, to provide a safe work environment, and to provide them with income. Your customers depend on you to provide a good product or service. They rely on you to have a safe and welcoming place of business. When you show a pattern of dependability, you start to build that trust.
Why Trust Matters
It might be an understatement to say that it has been a turbulent few years. For so many reasons, consumers are looking to support brands that they can rely on. Between scarcity of inventory and below lackluster customer service at many establishments, being a beacon of reliability will build a lasting relationship with customers.
Trusting and receiving trust from your employees is also a key component in running a successful business. Without that trusting relationship, you will be forced to micromanage employees you cannot depend on. Employees who can't depend on their boss are less reliable, offer a lower level of productivity and customer service, and have a high turnover rate.
Without Trust, Your Customers Will Not Return
Did you know that for some businesses, 65% of their revenue comes from return customers? Are you also aware that repeat customers, on average, will spend about 67% more than a new customer would? This is likely for a few reasons, one being that they trust in the quality of your products and services and feel comfortable enough to trust that expanding their purchases will be a good investment. If a customer starts to feel like your brand is not reliable or they no longer trust your reputation, then they might not return. This is a huge reason why building that trust is so important.
We know that building trust for not only your customers but your employees as well can be difficult. Here are a few ways you can build trust with both.

Clarity: Clarity simply means to make sure that they know what you're offering. Employees and customers alike don't like it when a brand isn't clear or undercuts a sale by excluding the most sought-after items etc. Make signage clear, and don't hide any fine print.
Character: Make sure your company values and your character are aligned with your business practices. This will make you more trustworthy to employees and customers.
Knowledge: Being a thought leader in your business sector will automatically build trust for your brand. If you know what you're doing, what you're selling, and what you're talking about, you won't have any problem finding people that trust and depend on you.
Consistency: Make sure your work, products, services, and quality are consistent. Your customers are going to want the same great experience every time they visit your establishment. Furthermore, your employees will want a consistent boss, so their job feels secure.
Download our guide for additional tips!