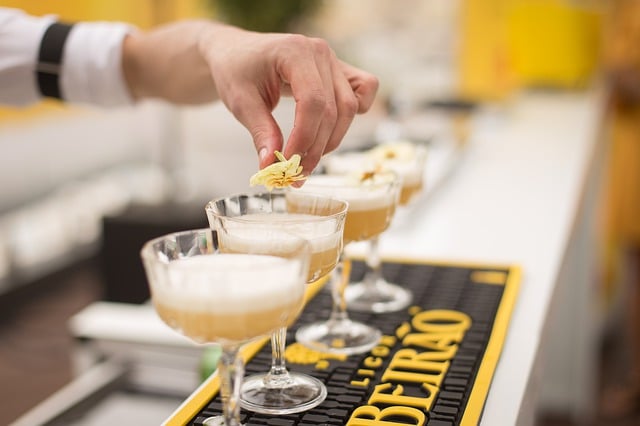 The bar area in your restaurant has tremendous potential to generate revenue, and there are some simple upgrades owners can make to draw in customers and increase sales. As things begin to open back up, getting your bar ready should be a top priority. Customers are anxious to get out and socialize. Offering them a fun and entertaining experience from the get-go will have them coming back for more. Here we take a look at how to upgrade your restaurant bar experience.
Provide Ample Entertainment
The entertainment experience you provide to your guests will have a tremendous impact on whether or not they continue to return to your establishment. Big-screen TVs, cable sports packages, music streaming, live entertainment, trivia, billiards, and arcade games can all add to the entertainment value of your bar and bring in revenue. Expanding your bar to include an outdoor area can make the atmosphere even more festive and provide additional space for live entertainment.
Keep Your Guests Comfortable
Getting guests to stay longer and keep the drinks flowing is a lot easier when they are comfortable. Traditional bar stools don't really cut it anymore. Padded chairs with a back to them are more likely to keep guests in their seats. Adding couches and lounge chairs provides additional comfort and a touch of class. Outdoor areas should be equipped with heaters in the winter and fans during the summer. Survey your guests to find out what else can be done to make them more comfortable.
Expand Your Drink Menu
Variety is the name of the game with today's bar menus. Offering an assortment of high-end cocktails as well as non-alcoholic mixed drinks can significantly increase your customer base. Wells are great for those looking to have more than a few and for promotions, but the good stuff can come with some pretty hefty profit margins. Imported beers, high-end spirits, and fine wines appeal to an audience that may be willing to spend a great deal at your bar. Keep an eye on trends and best sellers to help determine what you keep in stock and offer on your menu.
Offer Top-Notch Customer Service
Friendly, prompt, and accurate service is a must at your restaurant bar. Keeping guests in a good mood and with drinks in their hands is what running a bar is all about. While many restaurants have been short-staffed during the pandemic, it's important to make sure you are still able to provide quality service to your guests. Accepting a variety of payment methods and acquiring kiosks for easy ordering can improve the experience and make things easier for your staff.
Create A Bar Snacks Menu
Developing a separate menu for your bar guests that includes various popular bar snacks and appetizers can help increase your average order. These menus should be one page and easy to read. You don't want to offer too many options as this can make things difficult on your staff. Things like wings, nachos, fried foods, and other snacks are a perfect fit. You may even consider taking it a step further and offering tapas. These are small plates that are accompanied by a drink pairing for a special price. This is a wildly popular concept that has worked for a long time overseas and has made its way into the United States in recent years.
Investing in the bar portion of your restaurant business can pay big dividends. Quikstone Capital helps restaurants and bars grow with fast and easy funding that can be used as you see fit. Click below to apply now!