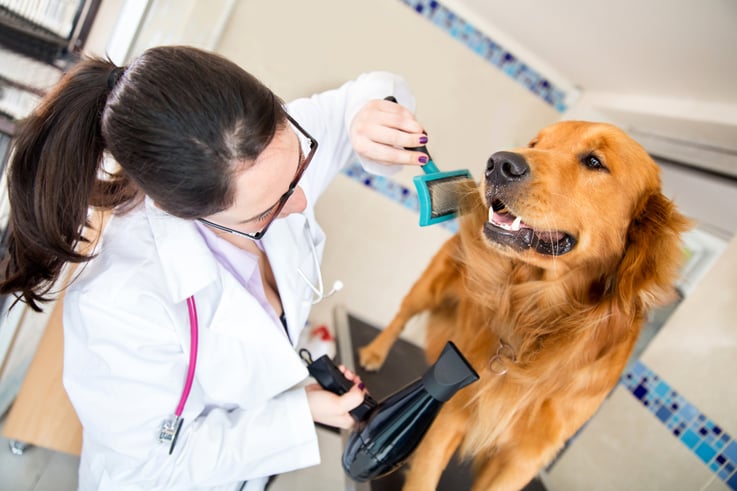 If you could gain a larger customer base by offering a service that simplified the lives of your busy customers would you do it? Offering mobile grooming is a great addition to an established pet grooming salon. There are a few considerations to be made before taking the leap and offering this type of service.
Transportation
It goes without saying that to take your business mobile, you will undoubtedly need transportation. Going mobile can work one or two ways for your business. You can provide a taxi service for your customer's pets to be transported to your grooming facility or you can offer full grooming services on the go. Both services are a great way to reach customers who are unable to make it to your brick and mortar location for one reason or another. Simply providing a taxi service would be a lower cost investment for you to make business wise, you would need a company vehicle or van that is outfitted to safely transport animals. However, a pet taxi service might not satisfy the needs of everyone who would want a mobile grooming service. If you want to provide full service grooming on the go you will need a vehicle large enough to accommodate all of the necessary equipment you would need.
Invest In The Right Equipment
The initial equipment investment may seem substantial, but it will be worth it in the long run. You will need to equip your vehicle with the following:
A tub
Grooming table
Generator
Tool area
Drying equipment
Cleaning supplies
Water supply
Make Sure You Get The Right Insurance
You need to make sure that your new mobile grooming addition is properly licensed and insured to protect yourself and the animals that you are serving in the case of an unforeseen accident. You need to make sure this aspect of your business is insured as well as the vehicle itself.
Competitive Pricing Is A Must
Researching rates is your area is imperative. You obviously need to have pricing that is competitive with others, but also make sure that you are leaving room for profit. Most mobile grooming services come in at a slightly higher rate than traditional grooming services simply because of the convenience, so it is typical that your mobile grooming rate will be higher than what you charge in your store.
Get The Word Out With Proper Advertising
Advertising your new business venture can be the difference in success and failure. Aside from traditional marketing tactics, most of your existing customers are your best tools to market your new services. Word of mouth can be huge when friends and neighbors ask their community for groomer recommendations. Make sure your current customers are aware of the new offerings you have. You can get the word out with fliers and signage in your store as well as posting about the changes on social media. Once your mobile grooming is well known and established you will have no problem staying booked.
All new business ventures come with a price tag, so if you lack the working capital to grow your business let Quikstone Capital help with a merchant cash advance.