As a whole American society is becoming more health conscious and small businesses are beginning to realize how it can affect their bottom line. There are many ways that promoting a healthy lifestyle within the workplace can save money and better your company. Making an investment in the well being of your employees can have a lasting impact. Healthy workers are more productive, miss fewer days and have a higher rate of job satisfaction. As a small business owner you should always be looking for ways to cut costs and improve quality with sacrificing the vision you have for your business. A healthy workforce can provide you with a competitive advantage and help increase your presence in a ever changing economy.
Healthcare Costs
There is the potential to significantly reduce your healthcare costs through the use of employee wellness programs. These programs can include gym memberships, nutritionists and motivational speakers. Most health clubs will offer discount group rates and other incentives to companies that enroll a large number of members. Preventative action is what will keep your long term costs lower. With laws changing and premium costs always on the rise, implementing a well organized wellness program will help you reduce future costs while maintaining continuity in your workforce.
Productivity
Healthy employees tend to have more energy and be more productive. Proper diet, exercise and sleep regiments benefit cognitive thinking and make for a more focused workforce. More efficient employees provide your business with reduced operational costs. Statistics show that health conscious workers are more willing to take on tasks and meet goals and deadlines. The survival of your company depends largely on the ability of your employees to produce a quality product or service. Giving them a healthy edge will benefit both parties long term.
Attendance
According to research from the Health Enhancement Research Organization (HERO), Brigham Young University and the Center for Health Research at Healthways absenteeism was 27 percent lower for those workers who ate healthy and regularly exercised. This represents a large number of work hours where your organization can be operating at peak capacity and efficiency. Absenteeism ranks as one of the most difficult obstacles for managers to work around and ensuring they have a reliable team will pay short and long term dividends.
Employee Morale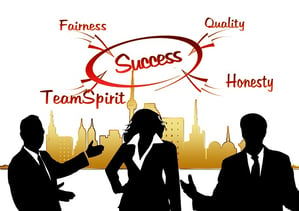 The benefits of healthy living impact employee morale and teamwork within your organization. When employees are missing time or unfocused it can cause a heavier workload for other team members. While you do want to breed an environment where everyone is willing to help each other, having a reliable workforce helps your team to build and mature. Exercise releases endorphins which also improves the mental health of your employees. Having a focused team will keep your small business growing and adapting to fluid trends.
Encouraging Participation
A wellness program will only work if you have paricipation from your employees. There are several ways you can encourage involvement such as discounted gym memberships, providing healthly snack options and rewards for those that are meeting fitness goals. Participation should be promoted from the top down and as the owner of a business you have more influence than you may believe. Take the initiative to participate in all available programs yourself. The benefits you provide should be made well known to your employees and promoted consistently.
Make It Happen
The cost of implementing a full scale wellness program is insignificant compared to the benefits of a healthy workforce. In many cases it can be tough for a small business owner to have extra cash flow on hand. If you're searching for a way to reduce costs, improve morale and increase productivity, consider a merchant cash advance from Quikstone Capital Solutions. With a faster and easier approval rate than traditional bank loans a merchant cash advance could be just what your business needs to stay healthy.